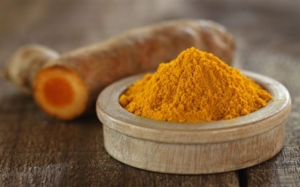 This is the remedy that I am using for my clients to help them recover from cancer.
One of the active ingredients is Turmeric shown in this illustration.
All the ingredients are cheap and easily available.
I am not recommending this as an alternative to conventional medical treatment. However, whether you choose to use conventional treatment or not, I believe this formula will assist in your recovery.
Take four organic lemons
Zest the skins with a grater
Put the zest and juice from the four lemons into a medium sized jug
Add three teaspoonfuls of turmeric powder
Add one teaspoonful of ground ginger
Add a quarter of a teaspoon of black pepper (important ingredient)
Add one teaspoon of reishi mushroom powder (or empty 6 capsules into mixture)
Add honey until sweetened to taste (acts as a preservative and transmits the herbal ingredients into the cancer cells)
Stir ingredients thoroughly
Fill the jug with warm water (not hot) that has been previously boiled (to sterilize)
Keep the liquid in the fridge
Drink half a cup every day ( should last for three or four days). The most effective time to take the remedy is first thing in the morning before you have breakfast. This way the cancer cells will absorb the ingredients with the sugar (honey) that they crave.
If you cannot get organic lemons – just use the juice and not the zest from the skins. Do not use zest from non-organic lemons because of potential pesticide contamination.
Image source: http://www.mnn.com/food/healthy-eating/stories/the-amazing-health-benefits-of-turmeric
The best way to overcome cancer is to deal with it at all levels of your being:
At the physical level, by boosting your immune system and creating an  environment in your body that doesn't allow cancer /cancer stem cells to survive.
At a emotional/psychological level by developing a strong belief in your ability to recover.
At a spiritual level by having a strong determination to live and carry out your own unique purpose in life.
You can find out how to do this by reading my book 'The Tree of Becoming' based on my own personal experience and many years of practice as a  natural and mind-based healer.
This book is currently available in paperback and e-book format from:
https://wordery.com (free worldwide delivery)
www.bookdepository.com  (free worldwide delivery)
www.amazon.co.uk   (free delivery in UK)
www.amazon.com   (free delivery in USA)
www.barnesandnoble.com  (free delivery in USA)
www.lulu.com  (free delivery in USA)